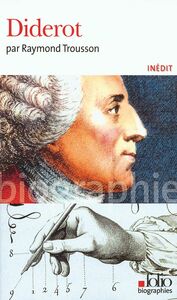 "Regardez-y de près, et vous verrez que la liberté est un mot vide de sens ; qu'il n'y a point, et qu'il ne peut y avoir d'êtres libres ; que nous ne sommes que ce qui convient à l'ordre général, à l'organisation, à l'éducation, et à la chaîne des événements."
Philosophe matérialiste, penseur politique audacieux, champion de la lutte contre l'obscurantisme et l'intolérance, romancier, théoricien du théâtre et du conte, codirecteur de l'Encyclopédie, Diderot (1713-1784) est l'une des figures les plus originales et les plus vigoureuses du XVIIIe siècle. Souvent précurseur de la pensée scientifique moderne dans la Lettre sur les aveugles ou le Rêve de d'Alembert, auteur de La Religieuse, "la plus effrayante satire des couvents", et d'un roman unique en son genre, Jacques le Fataliste, initiateur de la critique d'art, penseur en quête d'une morale laïque, il est bien le génie universel ou le "pantophile" que saluait Voltaire.
Book details
Publisher

Language

Original language

Publication date

Page count

Collection
About the author
Raymond Trousson
Raymond Trousson, professeur émérite de l'Université libre de Bruxelles et membre de l'Académie royale de langue et de littérature françaises de Belgique, est l'auteur de nombreux ouvrages consacrés au siècle des Lumières, en particulier à Rousseau : Jean-Jacques Rousseau jugé par ses contemporains (Honoré Champion, 2000) ; Jean-Jacques Rousseau, (Tallandier, 2003) ; Jean-Jacques Rousseau raconté par ceux qui l'ont vu (Le Cri, 2004). Il a dirigé, avec Frédéric S. Eigeldinger, le Dictionnaire de Jean-Jacques Rousseau (Honoré Champion, 1996). Il est aussi l'auteur de livres consacrés à Diderot – Images de Diderot en France, 1784-1913, (Honoré Champion, 1997) ; Diderot ou le vrai Prométhée (Tallandier, 2005) ; Diderot jour après jour : chronologie (Honoré Champion, 2006) et à Voltaire (Voltaire, Tallandier, 2008). En tant que comparatiste, il est aussi l'auteur du Thème de Prométhée dans la littérature européenne (Droz, 2001) et de Voyages aux Pays de Nulle part : histoire littéraire de la pensée utopique (Éditions de l'Université de Bruxelles, 1999). Dans la collection «Folio Biographies», il a publié en 2007 une biographie de Diderot.
Reviews
No reviews have been written for this book.