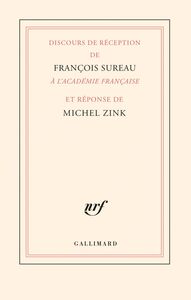 "M. François Sureau, ayant été élu à l'Académie française à la place laissée vacante par la mort de M. Max Gallo, y est venu prendre séance le jeudi 3 mars 2022, et a prononcé le discours suivant : Mesdames et Messieurs de l'Académie, Avant de m'asseoir parmi vous, suprême récompense des talents incertains d'eux-mêmes, laissez-moi rester quelques instants debout parmi les vivants et les ombres. Aux vivants je dois ce remerciement que je ferai tout à l'heure. Quant aux ombres, je voudrais faire apparaître, bien sûr, celle de La Fontaine, qui fut un moment avocat à Paris et reste à jamais le plus vivant d'entre nous, lui qui dormait vingt heures sur vingt-quatre et ne se réveillait que pour la poésie et pour l'amour ; mais l'ombre aussi de Chateaubriand exposé pour toujours au silence et au vent de la mer, et celle de Deniau revenant du Panshir, et celle de Jean d'Ormesson parlant d'Augustin avec Ayyam Wassef, et j'étais ébloui, et cet éblouissement n'a pas cessé. Je m'en serais voulu d'annexer ainsi, à l'instar d'un député des candidatures multiples, d'autres fauteuils que le mien, si je ne m'étais souvenu que l'Académie, c'est une Compagnie dans laquelle on entre, et non une circonscription dont on hérite..."Ce volume rassemble le discours de réception de François Sureau à l'Académie française et la réponse de Michel Zink.
Book details
Publisher

Language

Original language

Publication date

Page count

Collection
About the author
François Sureau
François Sureau est né en 1957 à Paris. Ancien membre du Conseil d'État, il est aujourd'hui avocat à Paris. Écrivain, il a déjà publié aux Éditions Gallimard La corruption du siècle (collection Blanche, 1988), L'infortune (collection Blanche, 1990, Folio n° 2429), L'aile de nos chimères (collection Blanche, 1993, Folio n° 2429), Les Alexandrins (collection Blanche, 2003), La chanson de Passavant (collection Blanche, 2005), L'obéissance (collection Blanche, 2007, Folio n° 4805), adapté en BD par Franck Bourgeron (Futuropolis, 2009), Inigo (collection Blanche, 2010, Folio n° 5345), Sans bruit sans trace (collection Blanche, 2011).
Michel Zink
Reviews
No reviews have been written for this book.