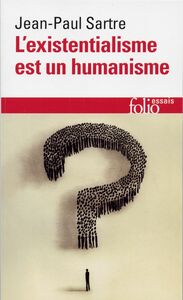 "L'existentialisme n'est pas autre chose qu'un effort pour tirer toutes les conséquences d'une position athée cohérente. Elle ne cherche pas du tout à plonger l'homme dans le désespoir. Mais si l'on appelle, comme les chrétiens, désespoir toute attitude d'incroyance, elle part du désespoir originel. L'existentialisme n'est pas tellement un athéisme au sens où il s'épuiserait à démontrer que Dieu n'existe pas. Il déclare plutôt : même si Dieu existait, ça ne changerait rien ; voilà notre point de vue. Non pas que nous croyions que Dieu existe, mais nous pensons que le problème n'est pas celui de son existence ; il faut que l'homme se retrouve lui-même et se persuade que rien ne peut le sauver de lui-même, fût-ce une preuve valable de l'existence de Dieu. En ce sens, l'existentialisme est un optimisme, une doctrine d'action."
Book details
Publisher

Language

Original language

Publication date

Page count

Collection
About the author
Jean-Paul Sartre
Jean-Paul Sartre (1905-1980) est philosophe, critique littéraire, romancier, nouvelliste et dramaturge. Il se fait connaître du grand public par ses récits (La Nausée, Le Mur) et ses pièces de théâtre (Les Mouches, Huis clos). Mais son activité littéraire est indissociable de sa pensée philosophique (L'Imaginaire, L'Être et le néant). Menant une intense activité politique, il refuse le prix Nobel de littérature en 1964.
Reviews
No reviews have been written for this book.