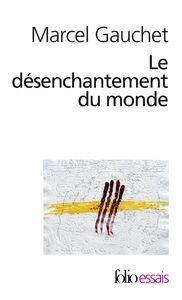 Le désenchantement du monde. Une histoire politique de la religion
Marcel Gauchet
Il est des ouvrages qui, très vite, s'imposent comme des classiques contemporains. Depuis sa parution en 1985, cette Histoire politique de la religion est tenue pour telle. L'ouvrage comble, il est vrai, une grande lacune, depuis les travaux pionniers de Durkheim, Max Weber et Rudolf Otto, en rendant au sujet la place qu'il mérite. Car le religieux a modelé activement, et plus profondément qu'il n'y paraît, la réalité collective dans toutes les sociétés jusqu'à la nôtre, en particulier les formes politiques. Marcel Gauchet propose un renversement de perspective : on a voulu voir l'histoire des religions comme un développement ; or la religion pure est au commencement. Ce que nous appelons 'grandes religions' correspond, en fait, à autant d'étapes d'une mise en question du religieux dans sa rigueur primordiale. De ce point de vue, il faut mesurer la spécificité révolutionnaire du christianisme et son rôle à la racine du développement occidental. Marcel Gauchet caractérise le devenir des sociétés contemporaines, depuis l'essor des techniques jusqu'à l'enracinement des procédures démocratiques, comme un mouvement vers une société hors religion. Le monde d'aujourd'hui ne s'explique que par la sortie et l'inversion de l'ancienne économie religieuse. Sa particularité, c'est le désenchantement du monde.
Book details
Publisher

Language

Original language

Publication date

Page count

Collection
About the author
Marcel Gauchet
Marcel Gauchet enseigne à l'École pratique des Hautes études. Entre autres essais, il a récemment publié aux Éditions Gallimard La religion dans la démocratie (Le Débat, 1998, Folio Essais n° 394) et La démocratie contre elle-même (Tel, 2002).
Reviews
No reviews have been written for this book.