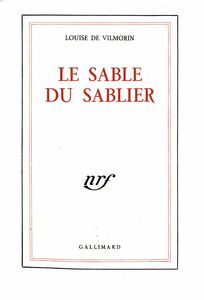 "Sur le Danube en Février Les longs îlots d'herbe frissonnent, Ce sont des tombeaux oubliés Que la brume d'oubli couronne.
Les souvenirs y sont couchés Pareils à des anges malades, Les souvenirs anges cachés Au cœur d'anciennes promenades.
Le fleuve glisse bras ouverts À la poursuite d'un visage Et fait danser tête à l'envers Les amants en pèlerinage
Quand meurt aux abords de l'Été Le grand vent qui souffle d'Asie Le papillon vient grelotter Sur ces tombeaux des fantaisies.
Oh ! fantaisie Oh ! vérité, L'heure est partie en étrangère De ces souvenirs désertés Dont elle fut la passagère.
Gardienne de ces reposoirs La ronce, négresse en broussailles, Vient apporter ses bijoux noirs Au pied du lit des épousailles.
Mais les anges n'ont d'autre ami Que ce fleuve au destin tranquille Et leurs noms se sont endormis Sous l'herbe haute de ces îles.
Sur le Danube en Février La mouette lourde et sauvage, Dans le sable du sablier Ensable à jamais nos images.
Book details
Publisher

Language

Original language

Publication date

Page count

Collection
About the author
Louise De Vilmorin
Née en 1902 à Verrières-le-Buisson (Seine-et-Oise), Louise de Vilmorin, après une enfance paisible, peint et sur le conseil d'André Malraux écrit son premier livre en 1933. Jusqu'à sa mort à Verrières-le-Buisson le 26 décembre 1969, elle a consacré une grande partie de son activité à la poésie et à de nombreux voyages en Europe et en Amérique.
Reviews
No reviews have been written for this book.