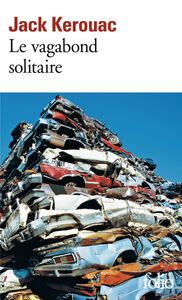 Le vagabond solitaire, c'est 'un recueil de morceaux... qui ont été rassemblés ici parce qu'ils ont un thème commun : le voyage'. Ces pérégrinations recouvrent les États-Unis du nord au sud et d'est en ouest, le Mexique et une partie de l'Europe dont la France, que Jack Kerouac considère comme sa seconde patrie. Tour à tour cheminot en Californie, aide-cuisinier sur un cargo, flâneur avec les beatniks de New York, Jack Kerouac part à l'aventure et déclare qu''il n'est rien de plus noble que de s'accommoder des quelques désagréments que nous apportent les serpents et la poussière pour jouir d'une liberté absolue'.
Book details
Publisher

Language

Original language

Publication date

Page count

Translator

Collection
About the author
Jack Kerouac
Jack Kerouac est né en 1922 à Lowell, Massachusetts, dans une famille d'origine canadienne-française.
Étudiant à Columbia, marin durant la Seconde Guerre mondiale, il rencontre à New York, en 1944, William Burroughs et Allen Ginsberg, avec lesquels il mène une vie de bohème à Greenwich Village. Nuits sans sommeil, alcool et drogues, sexe et homosexualité, délires poétiques et jazz bop ou cool, vagabondages sans argent à travers les États-Unis, de New York à San Francisco, de Denver à La Nouvelle-Orléans, et jusqu'à Mexico, vie collective trépidante ou quête solitaire aux lisières de la folie ou de la sagesse, révolte mystique et recherche du satori sont quelques-unes des caractéristiques de ce mode de vie qui est un défi à l'Amérique conformiste et bien-pensante. Après son premier livre, The Town and the City (1950), il met au point une technique nouvelle très spontanée, à laquelle on a donné le nom de «littérature de l'instant» et qui aboutira à la publication de Sur la route en 1957, centré sur le personnage obscur et fascinant de Dean Moriarty (Neal Cassady). Il est alors considéré comme le chef de file de la beat generation. Après une voyage à Tanger, Paris et Londres, il s'installe avec sa mère à Long Island puis en Floride, et publie, entre autres, Les Souterrains, Les clochards célestes, Le vagabond solitaire, Anges de la désolation et Big Sur. Jack Kerouac est mort le 21 octobre 1969, à l'âge de quarante-sept ans.
Reviews
No reviews have been written for this book.