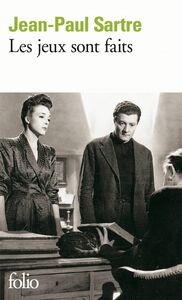 - Il m'a empoisonnée ? - Eh oui, madame. - Mais pourquoi ? pourquoi ? - Vous le gêniez, répond la vieille dame. Il a eu votre dot. Maintenant il lui faut celle de votre sœur. Ève joint les mains dans un geste d'impuissance et murmure, accablée : - Et Lucette est amoureuse de lui ! La vieille dame prend alors une mine de circonstance : - Toutes mes condoléances... Mais voulez-vous me donner une signature ? Machinalement, Ève se lève, se penche sur le registre et signe. - Parfait, conclut la vieille dame. Vous voilà morte officiellement. Ève hésite, puis s'informe : - Mais où faut-il que j'aille ? - Où vous voudrez. Les morts sont libres.
Book details
Publisher

Language

Original language

Publication date

Page count

Collection
About the author
Jean-Paul Sartre
Jean-Paul Sartre (1905-1980) est philosophe, critique littéraire, romancier, nouvelliste et dramaturge. Il se fait connaître du grand public par ses récits (La Nausée, Le Mur) et ses pièces de théâtre (Les Mouches, Huis clos). Mais son activité littéraire est indissociable de sa pensée philosophique (L'Imaginaire, L'Être et le néant). Menant une intense activité politique, il refuse le prix Nobel de littérature en 1964.
Reviews
No reviews have been written for this book.