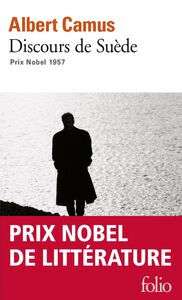 Discours de Suède (réception du prix Nobel 1957)
Albert Camus
"On aura peut-être été un peu surpris de voir dans ces discours l'accent porté par Camus sur la défense de l'art et la liberté de l'artiste - en même temps que sur la solidarité qui s'impose à lui. Cela faisait certes partie de ce que lui dictaient les circonstances et le milieu où il devait les prononcer, mais il est certain que Camus se sentait accablé par une situation où, selon ses propres paroles, "le silence même prend un sens redoutable. À partir du moment où l'abstention elle-même est considérée comme un choix, puni ou loué comme tel, l'artiste, qu'il le veuille ou non, est embarqué. Embarqué me paraît ici plus juste qu'engagé." Et malgré une certaine éloquence - qu'on lui reprochait également - il se sentait profondément concerné et douloureusement atteint par un conflit qui le touchait jusque dans sa chair et dans ses affections les plus enracinées." Carl Gustav Bjurström.
Book details
Publisher

Language

Original language

Publication date

Page count

Preface author

Collection
About the author
Albert Camus
Albert Camus naît à Mondovi, en Algérie, en 1913. Pendant la seconde guerre mondiale, il intègre un mouvement de résistance à Paris, puis devient rédacteur en chef du journal Combat à la Libération. Romancier, dramaturge et essayiste, il signe notamment L'étranger (1942) et La Peste (1947), et reçoit le prix Nobel de littérature en 1957. Il meurt en 1960 dans un accident de voiture.
Reviews
No reviews have been written for this book.