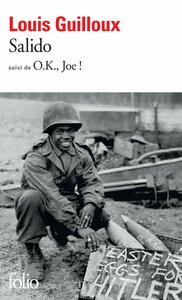 "Pour une journée qui s'annonçait vide, elle commençait de bien bonne heure..." Durant cette journée du 11 septembre 1939, sur une passerelle de la gare de Saint-Brieuc, le narrateur, comme s'il attendait quelque train toujours retardé, se rappelle une rencontre : Salido, combattant antifranquiste, qu'il a connu du temps où il était chargé d'accueillir des réfugiés de la guerre d'Espagne. Ainsi ses souvenirs vont-ils s'organiser autour de Salido, ce rebelle, animé de l'esprit de révolte qui hante aussi le narrateur. Le récit conjugue présent et souvenir, destin et retour sur soi, comme le suggère l'image de cette passerelle au-dessus des rails.
O.K., Joe !, issu d'un travail au ciseau et à la colle s'apparentant au montage cinématographique, nous propose une suite de scènes : viols, meurtres, procès, ayant pour cadre la Bretagne de 1944, tout récemment libérée. Louis Guilloux était alors interprète auprès des tribunaux militaires de l'armée américaine. En "gros plan", toujours, des vies dont il se fait le chroniqueur discret, le témoin : "Ask the witness..."
Book details
Publisher

Language

Original language

Publication date

Page count

Collection
About the author
Louis Guilloux
Romancier né et mort à Saint-Brieuc (1899-1980). Élève boursier, puis travaille au journal L'Intransigeant de 1921 à 1924. Jean Grenier, Guéhenno, Malraux, Gide et Camus furent de ses amis. S'est voué dès 1935 à l'aide humanitaire aux réfugiés espagnols et aux personnes déplacées, tout en poursuivant son œuvre.
Reviews
No reviews have been written for this book.